Play kids xylophone, drums and many more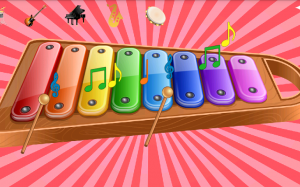 Great sounds for kids
Let your child make music on your phone or tablet. It is great fun for toddlers and kids to sit down and learn how to play musical instruments with authentic sounds. Use your fingers to play colorful instruments such as kids xylophone, drum kit, piano and acoustic guitar. Unlike real drums the sound level can actually be turned down, which is something moms and dads will appreciate.
Features:
Real instrument sounds
Multi touch which makes it possible to play several tones at the same time
Designed for Kids with simple navigation and bright child-friendly graphics
Play the classic 8 note kids toy xylophone for free
More instruments can be purchased in the app (instrument pack containing drums, baby piano and guitar)
Freeplay or tap to play along to different rhythms (drum set, electric guitar, grand piano, saxophone and tambourine)
Download
This great app for toddler and babies is currently available for Android and iOS (iPad/iPhone). Click the link below to download the app for you phone or tablet.
Google Play:
Free version. Full version is bought in the app.
App store:
Free version. Full version is bought in the app.
Comments, requests & bug report