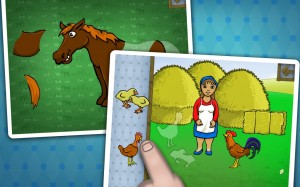 Great for young children
Does your child like animals such as a horse, cow, cat or dog? Then try our puzzle for kids with animals on the farm. A fun and educational game for learning about animals and animal sounds. The game contains animals such as sheep, rooster, chickens and many more. The jigsaw puzzle app is made for kids in the age of 1 to 4.
This puzzle app for children features:
Features:
Real animal sounds
Cute graphics
2 different kids of puzzle game modes with many different puzzles. Drag and drop the single pieces in the right places in the same way as wooden peg puzzles or connect the pieces to complete the puzzle. When the puzzle is completed will your child be rewarded with funny mini games or cute animations.
Parental gate to ensure that your child can use the app without accessing the content, which is only relevant for parents.
The kids puzzles contains animals such as horse, cow, cat, dog, sheep or pig. A great way for you toddler to learn about the life on a farm.
Download
Farm animals puzzle is currently available for iPad and iPhone. Click the link below to download the app
App store:
Click to download the fun animal puzzles for your child.

Comments, requests & bug report