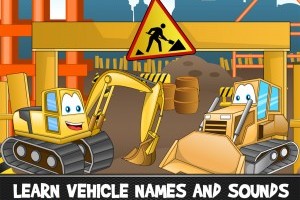 Great for toddlers
Let your little boy or girl explore the world of things that move. This cars kids game is made for toddlers who loves cars, dump trucks, diggers and other types of vehicles. It is a peekaboo kids app where the child can learn the names and sounds of various cars and trucks. The toddler app contains 10 different languages and cute animated graphics. It is simple to use so even babies will be able to use it and hopefully enjoy hearing the sound of fire engine or ambulance along with the kids friendly graphics. It's available for iPad, iPhone and Android phones/tablets.
This car game for little boys features:
Intuitive and simple navigation for young kids. Both babies and toddlers will enjoy the pictures of construction vehicles and general transportation with real sounds.
Voice-over and names in many languages for learning the first words. Currently the toddlers cars game includes include English, Russian, German, Danish, Norwegian, Spanish, French, Japanese, Chinese, and Portuguese language. The language in the app can be changed from the settings menu.
The game is free to try with the peek a boo cars and trucks theme with 7 vehicles for free. If your child likes the game the 3 other themes can be purchased in the app. Vehicles such as excavator, front loader, bulldozer, police car and motorcycle are available in the full version.
It is ad free and is made for 1 year old or 2 years old kids
Download
Cars and trucks for kids is currently available for Android and iOS (iPad/iPhone). Click the link below to download the app for you phone or tablet.
Apple App store:
Click to download cars and trucks names and sounds for iPad and iPhone.
Google Play:
Click to download cars and trucks names and sounds for Android on Google Play.
Credits
Comments, requests & bug report