Play the piano with real musical instruments sounds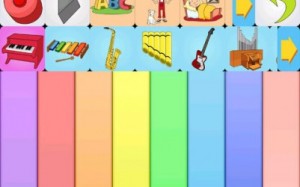 Great fun for kids
Does your child like music? This kids piano app will provide fun and entertainment for your toddler while playing the piano with different kind of musical sounds (xylophone and more). Play your own favorite song on the piano or listen to well known nursery rhymes. Babies will also enjoy tapping the different colorful keys on the full screen keyboard and listen to the various instrument sound effects – a kind of baby music box.
Features:
Real musical instrument sounds
Multi touch which makes it possible to play several tones at the same time
Designed for Kids with simple navigation and bright child-friendly graphics
10 musical instruments.
Full version also contains the possibility to record and play your own songs.
The parents section in this app for kids is restricted by a child lock. In order to access the content relevant to parents or have the possibility of buying the full version the correct sequence of icons has to be pressed. Hopefully, this parental control will give your child a better experience with the app.
Download
This great app for toddler and babies is available for for Android phones and tablets and iPad / iPhone. Click the link below to download the app for you phone or tablet.
App Store:
Get the piano for kids app for iPad or iPhone on the App Store
Google Play:
Get the piano for kids app for Android on Google Play
Comments, requests & bug report