Play the piano with real animal sounds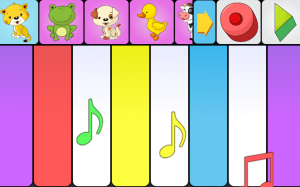 Great fun for kids
Does your child like music and animals? This kids piano app will provide fun and entertainment for your toddler while playing the piano with animal sounds. Play your own favorite song on the piano with real animal sounds. This kids app also includes the possibility recording their own song and play it back afterwards.
Features:
Real animal sounds
Multi touch which makes it possible to play several tones at the same time
Designed for Kids with simple navigation and bright child-friendly graphics
12 animals. Following animals are included cat, frog, dog, duck, cow, elephant, pig, goat, fly, bear and horse. Free version contains cat and frog sound.
Full version also contains the possibility to record and play your own songs.
Download
This great app for toddler and babies is currently available for Android. Click the link below to download the app for you phone or tablet.
Google Play:
Get animal sounds piano for kids for Android on Google Play
App Store:
Get animal sounds piano for kids for iPhone ro iPad on the App Store
Comments, requests & bug report